Welcome to the Faculty. If you are on this page, I hope you are considering coming to join the largest intensive care statutory organisation in the UK. By joining, you are contributing to the promotion of training and education, improved standards of care, and better outcomes for our patients and their families. If would be great if the future of critical care could benefit from your experience and passion.
As a FICM member you have access to the 'My RCoA' portal, where you can access your FICM membership details and update the information we hold about you quickly and easily. MyRCoA is also the portal for viewing the BJA online platform.
How your membership counts
The Faculty would not be able to undertake its work without the support of its membership. By joining, you allow us to take forward a significant number of work streams for the future good of our services. Read our Strategic Aims for more on what the Faculty is able to do with your ongoing support. You can also read our magazine Critical Eye, and Critical Works updates for more information.
In order to improve our services, we try to keep as much of what we do as free and open access, from education to standards.
How you can get involved
Our Getting Involved webpage includes information on the major committee positions and Faculty roles that members can apply to. Our members-only monthly e-newsletter, Dean's Digest, gives up to date critical care news and details on ongoing consultations, surveys and opportunities to get involved.
How can I join?
Take a look at our Membership Flowchart for a quick guide to which category of membership is right for you.
Maternity Leave
If you are soon to go on maternity leave or are already on maternity leave you may opt to put your subscription into 'abeyance'. You will not pay any subscription fee during this time, but you will continue to receive your full membership benefits. All we need from you is a completed self-declaration form informing us of the dates of your maternity leave. To request a self-declaration form please email the RCoA membership team on membership@rcoa.ac.uk and copy in the Faculty contact@ficm.ac.uk when making the request.
Access to the Lifelong Learning Platform
If you are applying for membership with the Faculty to gain access to the LLP e-portfolio platform, we advise checking your eligibility with the LLP team first. Please contact the LLP team at LLP@ficm.ac.uk.
All ICM trainees that have been successfully recruited onto a UK based ICM training programme (this will include eligible MTI doctors just as it does now) are eligible for access to the system.
We may also be able to provide doctors that want to apply for Certificate of Eligibility for Specialist Registration (CESR) in Intensive Care Medicine with access – we are investigating this possibility.
We will also be looking to develop the curricula and provide access to FICM ACCP members and Critical Care Pharmacists in the future.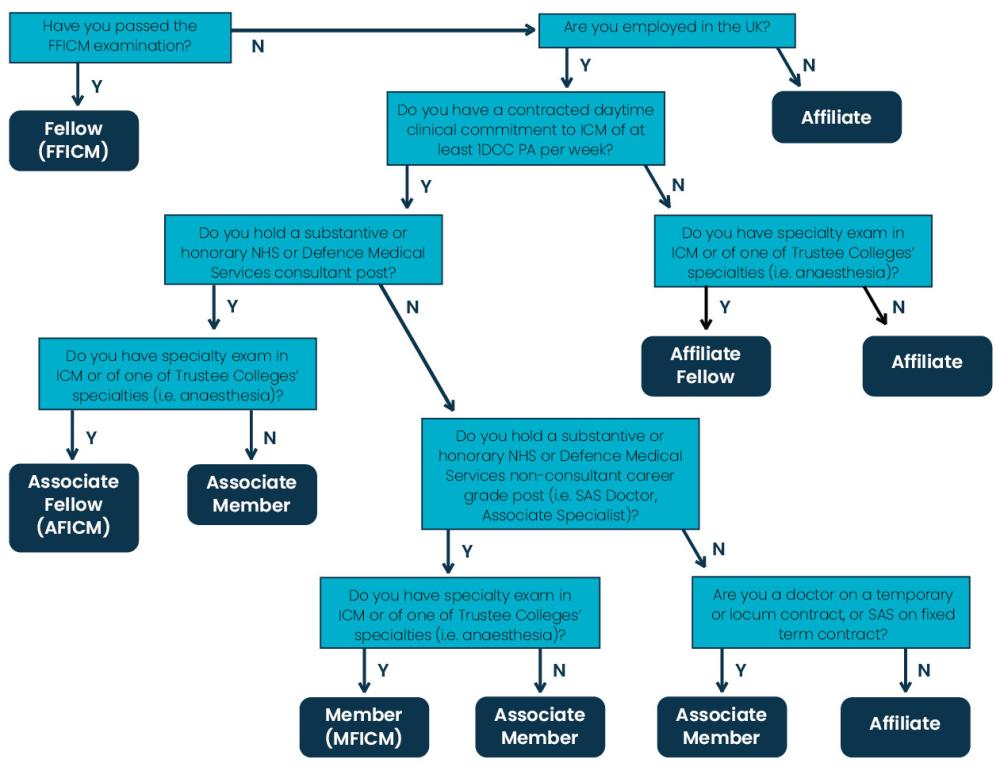 Please see below for all of our routes of membership. There is some necessary complexity to our routes of membership due to our role as an organisation governed under a royal charter. Each section below, gives a brief description of the route with more detail available if you click each respective link. Any questions can be sent to our main inbox, contact@ficm.ac.uk. Please note an application can take a calendar month to approve depending on the complexity of the application and an external review process.
The Faculty of Intensive Care Medicine has a number of entry routes for Fellowship and Membership. Please click the links below for individual membership categories.
Please note that important changes to the membership routes of Fellowship by Assessment and Associate Fellowship took place in 2019.
Queries
If you are not sure about which route you are eligible for, please email contact@ficm.ac.uk with the following information:
current job title
your clinical commitment to ICU
exam history
any affiliation you may have with one of our parent colleges, i.e FRCA.
Individual membership categories
Please refer to the Faculty's Regulations for further clarification on eligibility requirements.
Please Note: Applicants for Fellowship or Membership of the Faculty will be informed of the outcome of their application and, if successful, receive their certificate in due course. However, there can be a backlog of applications to process. If you have yet to be informed of the outcome of your application, or have received a confirmation letter but not your certificate, please bear with us, it is being processed and you will be notified as soon as possible. The Faculty apologises for any inconvenience this may cause. Applications can take up to 1 month to process, depending on the volume of applications being processed.
Want to know more?
Please refer to the Faculty's Regulations for more detail on eligibility requirements.