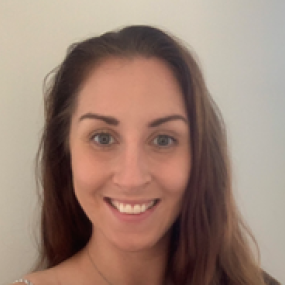 Fiona Walker
Anaesthetic Trainee
Fiona has just started her anaesthetics training in Glasgow, with the hope to eventually dual train in anaesthetics and ICM. Having just moved to Glasgow, she's enjoying exploring new places and all the coffee shops along the way.
"Last year I had the privilege of being an ICM clinical fellow at the Royal Infirmary of Edinburgh, and I absolutely loved it. The city, the patients and the staff made it a year I'll never forget.
As a bit of background, I wasn't always planning to work in ICM. My initial plan was to specialise in Oncology, and I very much dreamt of spending the rest of my life wearing fabulous outfits and avoiding chaos as much as I could… Alas, a couple of medical school placements and a foundation job later I was a convert. Turns out scrubs and crocs are a much comfier combination anyway.
I'd been in F2 for what felt like a second before applications for training opened. Honestly, I couldn't get my head around having to make that big of a decision whilst feeling completely knackered after a stretch of medical ward cover.
So why didn't I just locum?
If I'd have stayed in Manchester (where I did my medical and foundation training) I might have done. However, I'd already decided to leave and moving to a new place was enough to take me out of my comfort zone, so the thought of doing ad-hoc shifts with little continuity at multiple hospitals on top of that didn't really sit well with me. I wanted to gain a bit more experience of the job I was most interested in, both the day-to-day and the training programme, but I still wanted to take advantage of having enough flexibility to travel abroad – for obvious reasons this didn't happen but will be possible for future years I'm sure. Finally, I really needed a CV boost; bar presenting a poster abroad (because I actually just wanted to go to Paris) I had very little under my belt for what I knew was a very competitive job. For all this I thought a clinical fellow post was the best fit for me.
What does a clinical fellow do? Are you just service provision?
Every intensive care unit is different, and the one I worked in was HUGE. Having gone from a district general hospital to a newly-accredited tertiary trauma centre I noticed a big difference- things moved fast. However, I don't believe this impacted me negatively, in fact, I'd argue it gave me more to opportunities choose from. As a clinical fellow I found that I was treated similarly to the other trainees. There was always an expected element of service provision but we were also afforded protected time to work on areas of interest and develop projects.
The structure of the day was a welcome constant that enabled us to make it through even the most daunting work load, and they all started the same way – coffee whilst taking a handover from the night team. Handover was followed by daily reviews, giving you a chance to focus on a patient and formulate your own plan, which you then present at ward round. This may sound intimidating initially, but the value of getting direct consultant feedback on a daily basis improves your clinical understanding very quickly and is something I found really beneficial. Whilst you have jobs that are just as laborious as on any other ward, you do get some extra fun ones too, and if you wanted to learn then people wanted to teach. For example, during my time I was taught how to do arterial and central lines, and got involved in bronchoscopies as well as patient transfers. Developing these skills has been a massive advantage for me starting training this year and a big relief to my new hospital that I can chip in with jobs straight away.
Outside of the daily routine there's even more to get involved in. Nothing's forced on you, but an ICM clinical fellow post is an excellent opportunity for you to be proactive in an area you're interested in. We all know that QI and audit projects are a tick needed on our CVs so it's worthwhile taking the time to do a project you're passionate about. Focusing on an area of genuine interest can open even more doors for you and help create a really strong foundation for your career. On a slightly separate note, if you want to gain some experience in different areas, you still get time for taster weeks (e.g. in anaesthetics or Cardiothoracic ITU in my case). Overall, these fellow post are what you make of them and there are fantastic opportunities for you to tailor it to what you want and/or need it to be.
Surely you didn't enjoy it all the time?
No, I'd be lying if I said I didn't have challenging times throughout the year. Some of the these were ICU specific, and some were simply relevant to starting any new job. Moving to a new job (and a new hospital, in a new country) is a scary thing and I think that's often under-acknowledged because it happens so regularly throughout our training. Before starting, I did several dry runs to the hospital and on the first day when I was alone in the handover room after arriving a good 25 minutes early, I panicked – was I in the wrong place? I felt I had to be on great form all the time to make friends and that's really tiring when you're also trying to be good at a new job too! As time passed I settled in naturally and those worries just went away.
I was lucky I'd done a job in ICU during my foundation, but it still felt a lot like information overload, and I certainly don't think a foundation job is a prerequisite. There were definitely days early on when I wondered if I'd bitten off more than I could chew. As with every area of medicine, there were new abbreviations for everything and I felt people were talking about ventilators as if it was a secret language. I was asked so many questions I didn't know the answer to and I felt my default answer quickly became "I'll go check with a grown up". Once I realised that was actually the right thing to do instead of struggling on my own, things got a lot easier!
By the nature of ICU anywhere there are a lot of genuine tragedies that come through the doors. To add to this, the centre I worked in was a tertiary centre, and that often meant a more complex and sicker patient group too. That was pretty difficult and frequently emotionally testing when there was a bad run. However, the senior trainees and consultants were really open with me and shared that they were feeling the same. I really appreciated this. I felt really lucky to be let in on that secret, because I had this preconceived idea that as you gain more experience, you don't get overwhelmed or struggle with those sort of situations. ICU is such a supportive environment and the team really helped me deal with that.
What did you particularly like?
As much as there were the challenges I've mentioned, the overwhelming theme for me was very much that of absolutely loving my job. Taking the fellow post gave me the chance to move somewhere I never thought I'd be without having to commit to a few years in a training post. I wouldn't say I'm a massive risk taker, so this allowed me to explore within my comfort zone. I met some amazing colleagues, patients and friends. I felt very at home there and I loved the team ethic that is deeply built into the ICU culture.
Being in one job for a whole year was such a luxury. As I mentioned earlier, I found the whole process of just getting comfortable before you were whisked off to your next rotation exhausting. This job allowed me to build such better working relationships with the whole team. It meant that after the initial learning curve, I actually (most of the time) knew what I was meant to be doing, and people knew that they could trust me. Because of this, I found both my opportunities and learning increased exponentially.
From a pragmatic standpoint, obviously gaining points for your application is a big bonus and I was lucky that I got such a CV boost from the year. I'm not saying that you can't get a job straight out of F2 because I'm surrounded by them now as a trainee! However, I don't think I would have got a training post without having this year under my belt. Looking back, I probably spent too long just enjoying the fact I was getting paid to get my head down. Hey ho, we got there eventually and I'm very thankful to those that gave me a massive helping hand!
Finally, this experience gave me a lot of confidence to apply for a career that I now knew I definitely wanted to do. That sounds really simple to say, but I think a lot of people apply, or feel they have to apply, to training jobs that they've done for a split second, or 'like the look of' without the proper chance to give it a go. I know I certainly got a few funny looks when I said I wasn't applying straight from foundation training. This job gave me a chance to speak to others further ahead in their career, and let me envision how my life would be if I chose to continue in ICM. Even better, I got to speak to strong, powerful women. It shouldn't be, but it's definitely still different being a woman in medicine and I'd been told so many times that I 'must not want kids' if I was to go into ICU, so it was fantastic to speak to woman who (shock horror!) had children AND a fulfilling career, as well as a life outside of both of these!. Ultimately, it's not just a career, it's your life, and you need to making sure you're happy with it as your utmost priority.
I genuinely think I will treasure this job for a long time. It taught me so much and it's ultimately put me on a path I'm very happy and proud to be on.
Should you give it a go?
Absolutely. Hopefully I've done a good enough job to convince you it's a challenging but worthwhile pursuit. As well as being a specialist area, I think ICU maintains a real general approach. Whether you're interested in anaesthetics, medicine, A&E or research, there is definitely something for you to get involved in within ICU. There will be tough times, there's no denying that, but there's some truly miraculous outcomes that make it worth it. Personally, I don't think I've worked in a speciality that supports the development of you both as a person and a doctor as much as ICU does. If you like coffee, a challenge and working as a team, then maybe there's an "intensivist" in you yet…"