Liz Thomas
Consultant in ICM and Anaesthesia
Dr Liz Thomas is the Chair of the WICM Sub-Committee . She is a consultant in critical care and anaesthesia. When not at work, Liz sings as much as possible in several choirs and loves to explore the world with her family
I have sung in choirs since I was 10 years old. I remember my first concert – singing treble in some choruses of Messiah with the senior school choir, from that concert on I realised that singing was important to me. I considered a career as a professional musician, but my mother pointed out to me I didn't really practice enough, it was a very tough field to get work in and I could probably get a lot of enjoyment from music as a hobby with income from a different career. So, I followed her advice and went to medical school.
I joined the Hallé Choir as a medical student – aged 21. The choir is based in Manchester and is made up of 160 amateur singers from all walks of life. We perform about 12 concerts a year, generally large scale choral works with the professional Hallé orchestra, and this has meant I have been lucky enough to sung all around the world, including concert halls in London, Spain and Sydney Australia. I have been also lucky enough to have been directed by some of the world's best conductors and share the platform with many world class soloists.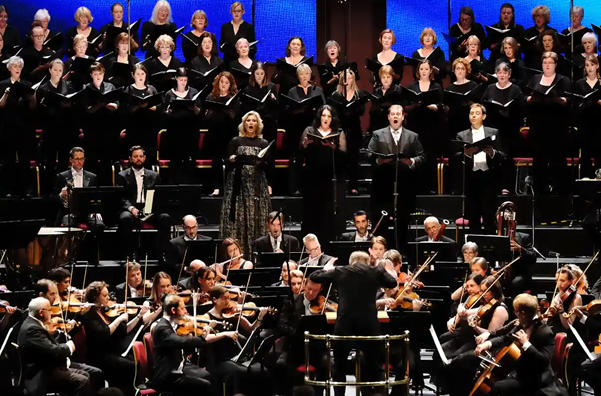 I really missed singing during the lockdown. I joined the ICU liberty singers and did some zoom choir rehearsal and many virtual choir projects, but it was not the same. For me, the wellbeing comes from breathing together, concentrating, the singing as a group and the beautiful result that comes. I sing as much as work and family life allows – overall I perform about 24 concerts a year! (I am in 3 different choirs of different sizes and I have a very, very understanding family!).
We also have music in my ICU – the Music in ICU charity come and play to the patients. It really is brilliant (although, of course covid has changed how it runs). Personally I think live music helps the patients get better faster, lessens delirium and makes the staff happier too. Before the pandemic we had a music session for critical care staff – it was really well appreciated with 14 staff from the whole MDT coming together for an hour of singing! We sound great and everyone enjoyed the event.
Everyone can sing! If you can talk you can sing, although I appreciate a lot of people are not confident singing or feel they don't make a pretty sound. I would encourage singing as an activity to help your wellbeing, mental balance and mental health. There are all sorts of choirs out there for every type and experience of singer, and the ICU liberty singers are also open to new members!
Singing has helped me through many difficult times, and I have a lot of really good friends through music. And next month I will have sung in the Hallé choir for 20 years! Time flies when you're having fun.